Skip to main content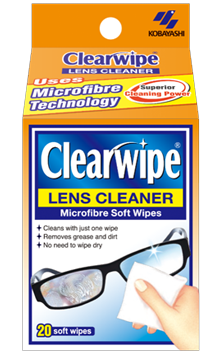 Clearwipe Lens Cleaner are microfibre soft wipes designed to clean glasses, sunglasses and smartphones with just one wipe. Clearwipe removes grease and dirt with just one wipe and there is no need to wipe dry.
How does Clearwipe Lens Cleaner work?
The microfibre soft wipe has a special texture that traps and removes grease and dirt easily without leaving any residue. Furthermore the semi-moist wipe contains just the right amount of cleanser so as to leave the lens beautifully clean without the need for wiping dry.
Benefits
Superior cleaning power due to microfibre technology
Cleans with just one wipe
Product Range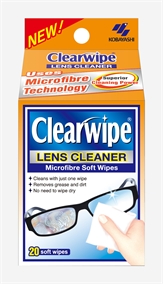 WHAT IS IT?
Clearwipe are microfibre soft wipes designed to clean your glasses with just one wipe. The individually packaged wipes removes dirt and grease easily and there's no need to wipe dry with a separate cloth. The wipes are also suitable for use on sunglasses or smart phones. Available as a 20 pack.
DIRECTIONS FOR USE
Open sachet and remove a wipe
Unfold wipe and lightly wipe to remove dust and grease. If sand or other coarse materials are on the lenses, first rinse the lenses with water
Lenses dry instantly for a streak-free shine

INGREDIENTS
>30% Isoproyl Alcohol
> 30% Water
< 5% Perfume
For full instructions and precautions please refer to the product packaging.
PRECAUTIONS
For external use only
Keep out of reach of children
Do not use on eyes
Not for use with contact lenses or liquid crystal screens
Do not use on frames made of tortoise shell or gems
Do not use if rash or skin irritation is present
Do not use on lenses with scratched or damaged surfaces or with peeling or flaking coating
May cause deterioration of lenses
Flammable: keep away from open flame